Small Ships Offer a Wider Array of Experiences
Small ships win people over because they can go to places that the big ships can't. You see the country from within, rather than observing it from the outside. Small ships can seek out ports of call and hidden locales that remain unknown to big-ship cruisers.
They're more personable
Because of the vastly reduced passenger count, you become familiar with your fellow guests in a way that just isn't possible on a large ship with thousands of passengers. Staff are likely to have a better grasp of what makes you tick as a person, and this frequently translates into excellent service.
What are small ships?
As cruising has grown in popularity, so have the size of the ships that sail. The larger ships now sail with more than 5000 passengers. They have also added more onboard activities like restaurants, bars, entertainment, pools, and of course lots of people. Some cruise lines have even invested in their own private islands. All to keep you happy and to keep emptying your wallet. They are also very large. Some of the decks are 3 football fields long and many ships have 18 or more decks that size.
Smaller cruise ships carry many few travelers. Your cabin is much closer to all the activities on board. On average, ocean going small ships take only 500-1000 passengers. Adventure cruise lines carry 200-750 passengers, expedition ships hold between 250 to 500 passengers, river boats never have more than 200 passengers. Some vessels only carry 30 to 150 passengers and can take you to places no large ship can dream to go.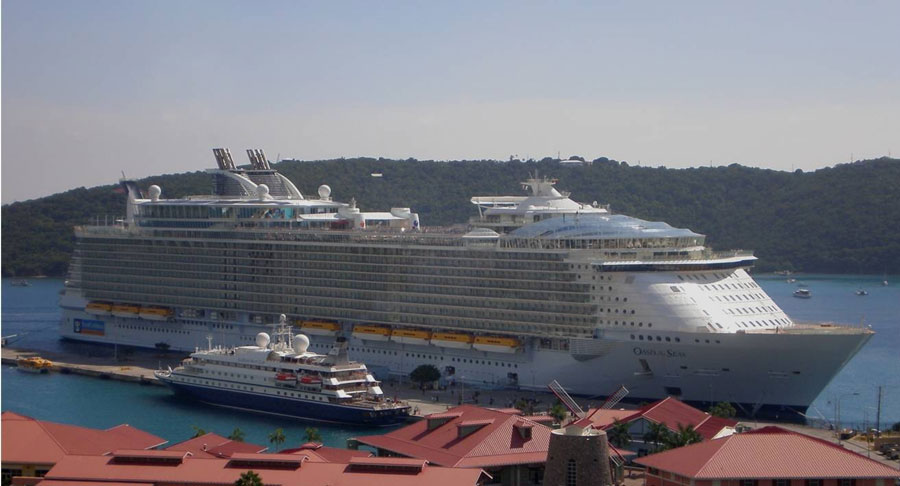 What are the advantages of small ship cruising?
No crowds. Getting on and off the ship is quicker. All the crew knows you and your preferences. Large ships onboarding can take a half a day before sailing. It can take hours to disembark in ports and more hours having people check back in. Even longer if the ship has to anchor and you have to take a tender boat ashore. That means they provide fewer hours on land for site seeing.
Smaller ships enter port earlier and leave later. Getting on and of the ship is quick and easy. These small ships can port in more places and never require a tender. Some small ships even overnight at some ports so you can experience nightlife as never before. No need to rush back for fear of missing your ship.
Let's be honest. The one limited commodity all cruisers have is time. Small ship cruises save lots you time you can use to explore or relax.
Dining
Big ships have lots of dining choices and variety of styles and cuisines. Many are included but some may venues are extra cost. Smaller ships have fewer dining venues, but the cuisine is more carefully prepared with fresher ingredients, many locally grown. Amd kitchen will remember your dining preferences, too.
Activities
To keep thousands of people busy at sea, large cruise ships offer lots of opportunities to get involved all day and night. You can take classes, dance in nightclubs, see cooking demos, watch Broadway-style stage shows of movies. Some have basketball courts, zip lines, water shows and ice skating. If you want a floating resort and amusement park, the bigger ships are your best bet.
Smaller ships have activities too, but they focus on your mind and body with included expert lectures, cooking, yoga, art and photography classes. Small ships focus more on the activities, culture and history of the places you will visit. If you cruise to visit new lands, rarely seen animals and new cultures, then small ship cruising is a must.
Family
If you travel with small, school aged children, the larger ships will have separate playrooms and activities away from the adult areas. If your children are over 14, then the adventure and exploration of a small ship sailing will appeal to the entire family and perfect for multigenerational travel.
Entertainment
Large ships have the shows, casinos, dance clubs, art auctions and lounge acts. They are designed for partying. Smaller ships have live musicians, too, but usually from the places you're visiting. They have movies, and lectures but most importantly they have quite, intimate lounges to meet your fellow travelers and make life-long friends.
Ports
If you cruise because the ship has all those activities, it really doesn't matter much to you where it goes and where the ship ports. But, if you cruise to explore destinations, without the crowds or the long lines, then a smaller ship is for you. Most large ships are limited to where they can dock, so you will need to tender to shore. A small ship will take you to breathtaking and beautiful places that large ships cannot go.
Peace and quiet
Small ships are low key, quiet and help you relax so you will enjoy your time away. No music blasting. no PA announcements. No selling of merchandise.  Larger ships are designed with many crowded spaces, noisy bars, luxury shops and high energy events with roving photographers who take pictures everywhere so you will be tempted to buy their photos. And even children being children in the halls and on the decks.
Pools
Big ships have their pools and hot tubs stuffed with people and kids. On smaller ships, there may only be a small pool or hot tub but they are rarely packed.
Price
The advertised price on larger ships is rarely the final cost of your cruise. So many activities, food and beverage will cost you extra each day. And shore excursions can add up quickly, too. Smaller ships tend to be all inclusive. Some even include gratuities.
By the time you add all the costs of the options, large and small ships are quite compatible. Do not go for the cheapest price. Larger ships have dozens of cabin categories. You may find a premium cabin, but you may have to walk long distances to eat in the dining rooms or see the shows. You will always pay more for better locations on the ship, size of the cabin, balconies, and included amenities. Remember, all cabins go to the same place the ship goes and they offer the same public areas and activities.
Better to focus on where the ship goes, the time of year, and what the ship does or does not include. Check the itineraries carefully and learn how long you will visit each port and what you can do ashore. Then measure the value of your dream experience beyond the price.
Remember, a cruise is all about experiences, memories and the stories you will tell. No one puts their receipts in the photo album.